She came to me nude and this was the first outfit I put her in, it was also one of my first attempts at sewing and knitting:
I couldn't stand her hair so I straightened it that day, as well as painted her lips: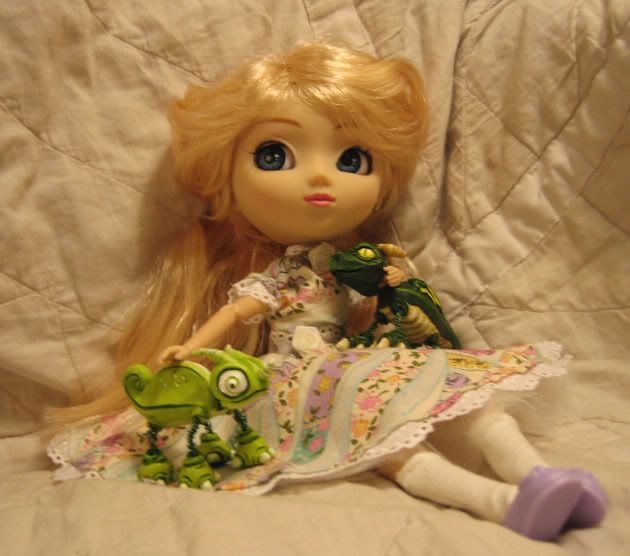 Alice with her cousin Dee. Dee is also a Raphia, I almost sold her, in the end I customized her and eventually she got a different wig: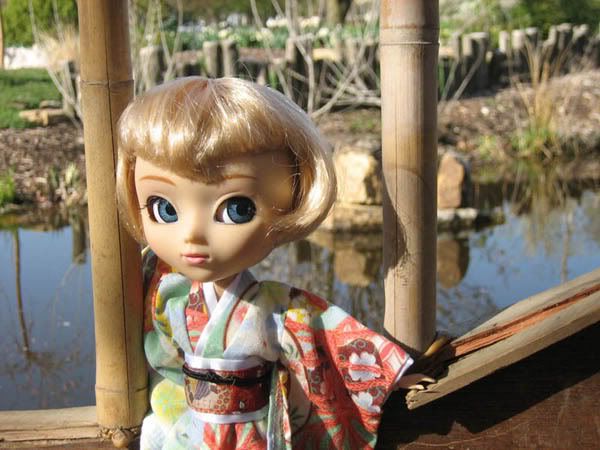 Alice and Etna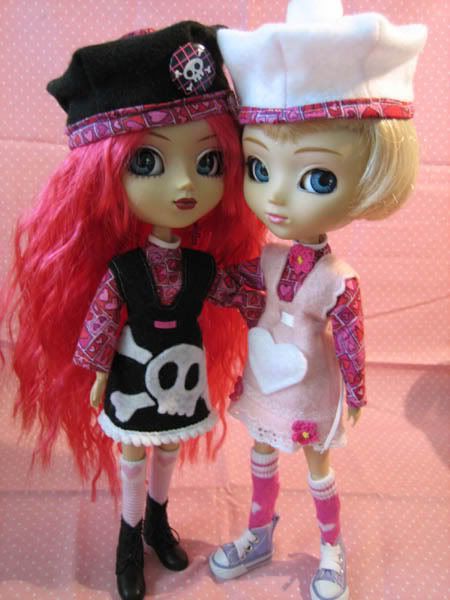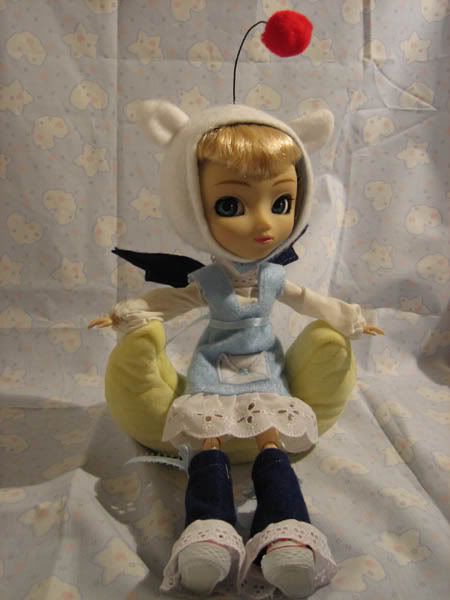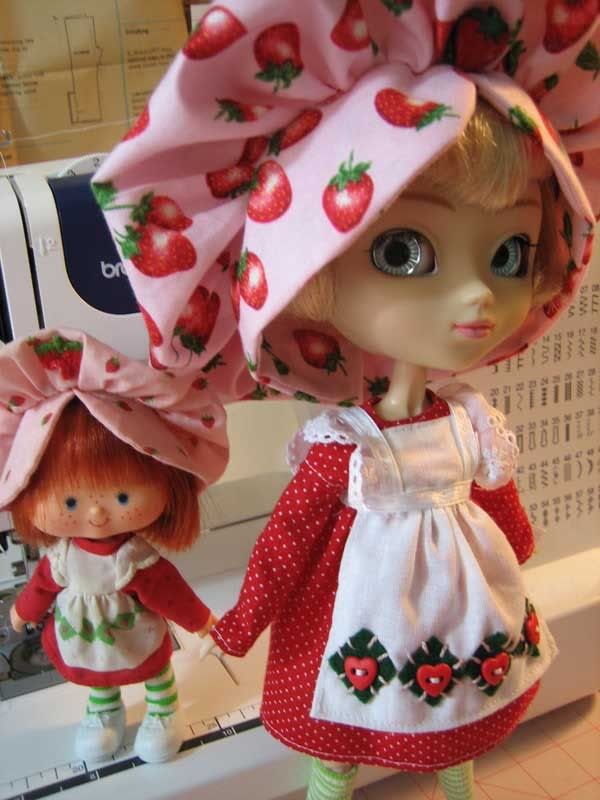 I love Alice in Wonderland, and I always wanted a Fantastic Alice. Luckily for me I don't own one. I know what you're thinking, I'm crazy, but if I had gotten a Fantastic Alice, I wouldn't have to make an Alice of my own, and I love my Alice more than I'll ever love a Fantastic Alice. Never since I was a small child have I loved a toy so fervently, she's my little muse. Once upon a time she was a Raphia, and she still has most of her Raphia stock, but I don't think of her that way she'll always be Alice to me. So this entry is for her, some of her pictures from arrival to present.
Dear Santa...

Dear Santa,

This year I've been busy!

In April I bought porn for
lovehaze (10 points). In October I bought porn for
thriith (-10 points). In August I ruled Iran as a cruel and heartless dictator (-700 points). Last Wednesday I broke
thriith's X-Box (-12 points). In September I saved a busload of nuns in Angola (326 points).

Overall, I've been naughty (-386 points). For Christmas I deserve a moldy sandwich!


Sincerely,
daydream_may
It seems I like to buy porn for people! LOL How did Santa know?
I decided that I really wanted Alice to be dressed as Alice in wonderland for this round. I think that she looks cute in this outfit, even though it's one of the first outfits that I put together. She's the third pullip that came to me, and the one I pose and take pictures of the most. She's a Raphia, with a bobbed wig, repainted lips and new eye chips. Alice is the first doll that I modified.
Here are some of the other pictures that I took for the contest, I took tons and then narrowed it down to these. I really wanted her to look like she was floating/falling (like down the rabbit hole) and that she turns and is surprised to see another Alice. I took the picture with her laying on the mirror, than spread the cards out and laid so of them on her. I turned the photo in Photoshop and adjusted the brightness a bit.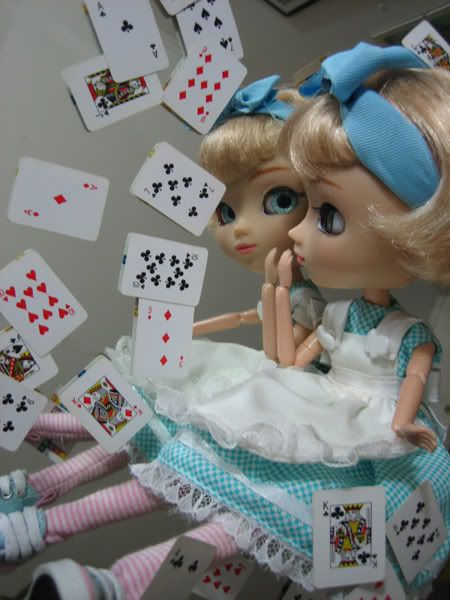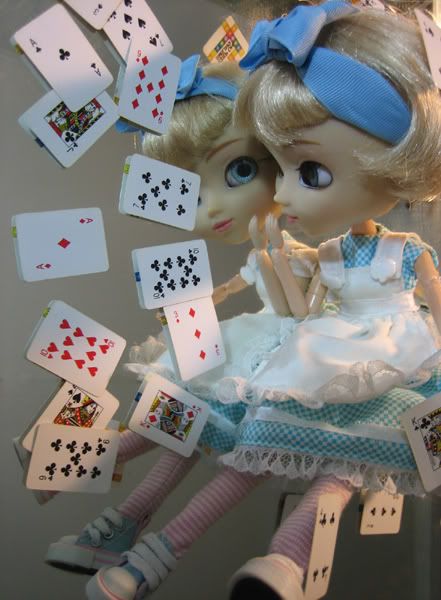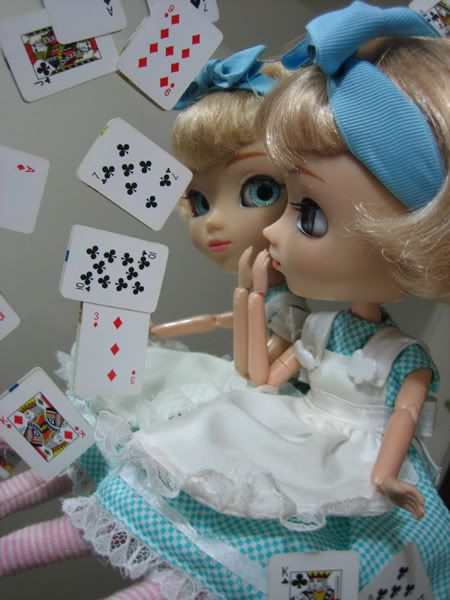 And the one I entered: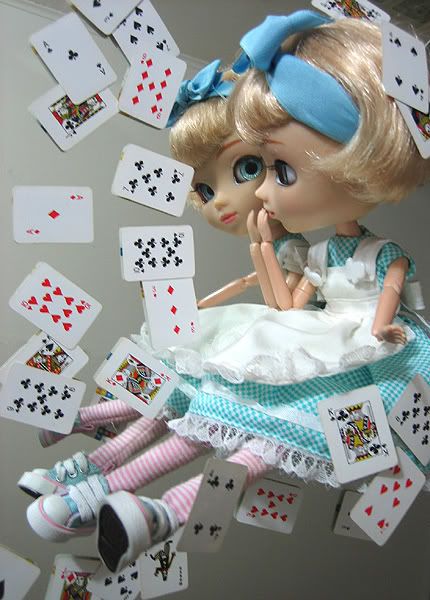 Good luck to everyone!! :)
Wooohooo!! I'm so excited to be in this contest, I've watched the previous times it went on, and decided that the next time that it went down I would get in on it. I began to lose hope that the contest would be held again so I entered the contest on PullipStyle "Next Top Pullip" it's fun, although I'm having a hard time coming up for entries for that one. Anyway the mirror, mirror round was super fun, I hope that I make it to the next round there's alot of really awesome photos, and if I were a judge I would have a hard time cutting 18 of them.
Maybe next time. ;)
Wooohooo!! A design contest, I'm really excited about this, cause I just sent my entries in today! Hoorah! I'm not holding my breath cause I don't want to be too disappointed when I lose. LOL! but I just can't help but dream alittle that I might get one of my dream dollies, Fanatica! It's definitely a tough choice but how cool if I did win! I actually think that it would be even cooler if one of my entries was made into a release, even if I didn't get paid for the design, it still would be neat! I plan to post my pictures here, after the contest is over, I don't want to jinx myself. ;)
Anyway, I hope that Jun Planning shows all the winners, so that we can see what they looked like! They're suposed to announce on the 9th of April, so not to long to wait!
Here are the awesome list of prizes!!
Content of winning
Prize of Pullip Noir/ Prize of Pullip Fanatica/ Prize of Pullip Cornice/ Prize of Pullip Raphia
Prize of Pullip Nomado/ Prize of Pullip Savon/ Prize of Pullip Withered/ Prize of Pullip Lan-Ai
Prize of Pullip Lan-Ake/ Prize of Pullip RIDa/ Prize of Pullip ZUORA/ Prize of Pullip 06'Purezza
Prize of Pullip Nahh-ato/ Prize of Pullip Shinku/ Prize of Pullip Suigintou/
Prize of Taeyan Sage/ Prize of Taeyan Filato/ Prize of Taeyan Timlus/ Prize of Taeyan Shade
And here's a picture of Plenair, just cause I feel like spamming my journal with her:
*Update to this: My entries didn't make it into the contest, I guess the files were too big cause the email was bounced back to me. :( Here were the pictures that I did for the competition though:
His first picture all put together:
Night pictures cause I'm nocturnal: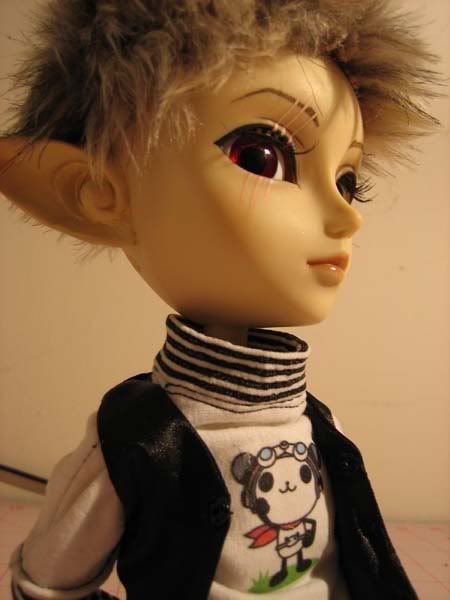 With his sister Persephonie (my first elf custom: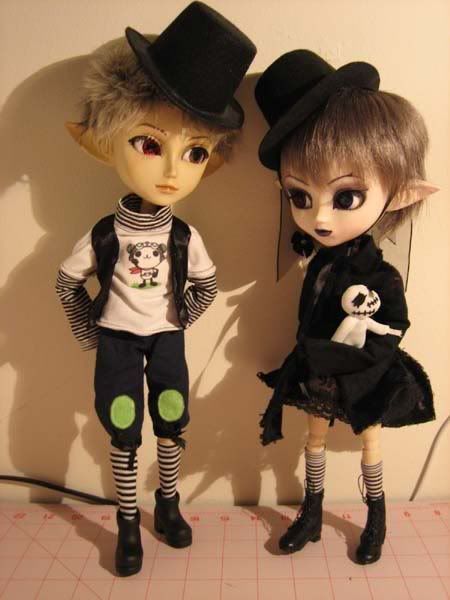 I finished my elven boy awhile ago, he used to be a timulus. I did post these on the Pullipstyle forum along with a tutorial, but I thought I would post his pictures here too. I'm pretty happy with him, although I might change his wig in the future. This is the first time that I've customed a boy, and I did want to sell him, but now I'm all "Oh, I'll sell the next one." ;) Yeah, I don't have a problem. LOL! Anyway, I do hope to sell some of my customs in the future, cause I love making custom dolls but I'm quickly running out of dolly realistate. -_- So with no further ado, Keenen (means little ancient one):
Current Mood:

chipper
You are The Star
Hope, expectation, Bright promises.
The Star is one of the great cards of faith, dreams realised
The Star is a card that looks to the future. It does not predict any immediate or powerful change, but it does predict hope and healing. This card suggests clarity of vision, spiritual insight. And, most importantly, that unexpected help will be coming, with water to quench your thirst, with a guiding light to the future. They might say you're a dreamer, but you're not the only one.
What Tarot Card are You?
Take the Test to Find Out.
You Are An INFP

The Idealist

You are creative with a great imagination, living in your own inner world.
Open minded and accepting, you strive for harmony in your important relationships.
It takes a long time for people to get to know you. You are hesitant to let people get close.
But once you care for someone, you do everything you can to help them grow and develop.

You would make an excellent writer, psychologist, or artist.
This one is my all time favorite!!
You Are 68% Evil

You are very evil. And you're too evil to care.
Those who love you probably also fear you. A lot.
Okay, I like to take strange surveys, so here are some I took cause I'm a dork! ;)
Current Mood:

crazy
Last night I decided to start the next custom pullip I have planned. The base doll is a Timulus that I got nude specifically for this purpose. So I started up by sanding off his stock and quickly learned something, Timulus has an ass ton of make-up!! I don't think I ever realized just how much of his face is painted, I have a stock Timulus and I figured it was his skin tone. It took me well over an hour to get him sanded down, I had to use some heavy duty sand paper too (not something I will readily do), and then had re-sand him down two more times to get him all nice and smooth. I'm pretty excited though, cause this will be my first customed boy, and I have some pretty ambitious plans for him, plus I think that I actually might sell this one, we'll see though, I'm notorious for getting attached to my customs. :P
Current Mood:

tired